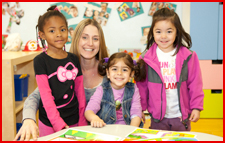 BEST PRESCHOOL FOR YOUR CHILD – ABC LITTLE SCHOOL
Preschool selection is very important and requires a lot of time and research. We encourage all prospective parents to visit as many local preschools and daycares as possible, to meet the staff, to observe the dynamics of the classrooms and to schedule play dates . Take your time, read reviews – there is nothing more precious than your child!
This familiar saying is a perfect motto for ABC LITTLE SCHOOL. It is our ultimate goal to maintain an environment where parents have a piece of mind when the children are in our care. It is important to know that children are safe, happy and well taken care of. The essence of our care revolves around "The Whole Child" approach where proper education, nurture, nutrition and play combine. Our campuses and staff are continuously improving, our goal is to provide the best care for the little ones. There are 5 convenient locations in Sherman Oaks, Van Nuys, North Hills, Studio City and West Hollywood. The North Hills preschool campus is the newest addition to the chain. It is the largest and the newest center, it features latest state of the art playgrounds, classrooms and security system.
Please read how to pick the right preschool for your child.
We invite you to learn more about each of our beautiful campuses. Please click on campus pages to virtually tour ABC Little Schools.
***** Registration for all campuses and age groups is now open*****
OUR TEACHERS
Our Teachers are loving, nurturing and very caring. As a result, transition for most children is fast and smooth. Most of our staff have been teaching at ABC for a while, our focus is to create stability for the children. At our schools all staff members meet or exceed State of California Preschool Teacher qualifications and are encouraged to continue their professional development. Many of the staff at ABC Little Schools are bilingual. They will introduce their language to the children through songs, books and simple commands. As a result, children become familiar with different cultures and languages. In addition, cultural diversity is introduced and encouraged through reading books, arts and crafts and while having fun!
The welfare of our children is out of most importance and as such, all ABC Little Schools staff are CPR and First Aid certified to ensure each child's safety. Please watch a short video about our preschools.
STAYING HEALTHY IN PRESCHOOL
Keeping our students and staff healthy throughout the school year and beyond is one of our top priorities. Most importantly, we maintain strict health policy at school for all students – we check our students upon arrival to make sure that he or she is ready for a fun filled day and there are no illness symptoms. We take many steps to ensure health and safety of our students, therefore reducing chances of becoming ill:
Frequent hand washing is the best way to prevent many illnesses – students wash their hands many times throughout the day.

We clean, disinfect and sanitize toys, furniture and other objects in the classrooms.

The outdoor areas are clean and maintained

Menu consists of healthy meals to boost immunity

All of our students are vaccinated

Our cleaning product are "green" – which is much better for students, staff and the planet!

Our cleaning crew cleans the entire campus thoroughly every night, every corner gets inspected and cleaned

Even our classrooms carpets get steam cleaned and sanitized

Cots are properly labeled – each child sleeps on their own cot (we do not allow sharing )
OPEN DOOR POLICY
Our focus is to meet each child's needs in a loving and nurturing atmosphere, therefore we collaborate with the parents/caretakers to create the best transition into a preschool environment. We practice "open door policy" for all of our enrolled families to ensure full adaptation and comfort to our preschool program. In addition, you are ALWAYS welcome to stop by and check on your little one! Feel free to walk into the classroom, call the school or observe your child via security cameras. Upon pick up a report (written or verbal, most campuses now provide online report with real time updates and pictures) about your child will be provided to you about his/her day for your convenience. Open communication is the key for a positive preschool experience and we do everything possible to ensure the needs of children and parents are met.
We offer different programs with full time and part time options for your convenience , all campuses close at 6 pm to accommodate working parents. Before and after care is included.
WHY CHOOSE US?
While attending ABC Little School your child will:
Obtain a strong academic foundation needed to succeed

Develop love for learning – we use innovative approach and latest technology (like Smart Board) to make learning fun!

Participate in interesting, fun projects and activities

Always have loving, caring and nurturing teachers next to your child

Develop healthy eating habits, another important aspect of proper growth and development

Develop social skills and manners

Get help with potty training

Make lots of friends and develop life long happy memories

Always be safe

Love going to preschool … and much more!