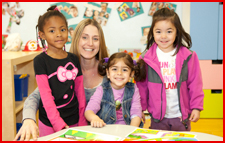 There is nothing more precious than children. This familiar saying is a perfect motto for ABC LITTLE SCHOOL. It determines the essence of our care, the preschool's rules and everyday care for the precious ones. Education and upbringing in our school is centered around a child's personality. We focus on children's self-discovery, self development, and self-realization. We use the latest methods of teaching preschool age children along with the ones that have been tested for years and proven to be most effective.
Teachers are trained to observe, analyze and plan for your child's specific learning needs. At our school all staff members meet or exceed State of California preschool teacher qualifications and are encouraged to continue their professional development. Many of the staff at ABC Little Schools are bilingual. They will introduce their language to the children through songs, books and simple commands.
Our focus is to meet each child's needs in a loving and nurturing preschool atmosphere. We collaborate with the parents/caretakers to create the best transition into a preschool environment.
The welfare of our children is out of most importance and as such, The ABC Little School staff are CPR and First Aid certified to ensure each child's safety.
While attending ABC Little School your child will:
Obtain a strong academic foundation needed to succeed
Develop love for learning – we use innovative approach and latest technology (like Smart Board) to make learning fun!
Participate in interesting, fun projects and activities
Develop healthy eating habits
Always be safe
Love going to preschool       … and much more!
There are 4 locations : West Hollywood, Studio City, Van Nuys and Sherman Oaks.